Mithai, the age-old traditional sweets/deserts of India is jut available in plenty everywhere in India and it's a must have during any occasions, celebrations and rituals held here. The sweets are mostly prepared using milk, flour, butter, semolina, rice and even coconut.
Out of all the things to do in India, one should not miss out on savoring the varieties of Indian sweets; at the least, a few varieties if not all. You can either have it after your delicious meal filled with different flavors and spices of the Indian Cuisine or you can have it on its own whenever you feel like.
Here are the lists of 16 different types of Mithai which one should definitely try out in India (and if I've missed out your favorites, we would be glad to hear about it in the comments section):
1.Ras malai
This one is my favorite and no one will regret after tasting Ras malai. Utterly soft, delicious and very refreshing.
For Ras malai, a dough is prepared from cuddled milk which is divided into small balls and then balls are either cooked in a boiling sugar syrup or in a hot water with a bit of rose water added. The balls are then added to thickened milk, chilled and it's flavored with pistachios and saffron.
It is believed to have originated from eastern part of India but it seems it's not confirmed yet.
2.Peda (or Pera/pedha/penda/pera)
Originated from Uttar Pradesh in India, Peda's main ingredients are khoa (evaporated milk) and sugar, flavored with cardamom seeds, rose water, pistachio nuts or saffron. It's prepared in various colors; mostly in a creamy white or a caramel color.
3. Modak
This one is prepared mainly with coconut, Jaggery, rice flour and Maida flour. Freshly grated coconut and jaggery makes up for the sweet filling inside the modak while the outer soft shell is made from rice or wheat flour mixed with Maida. It is either steamed or fried, either way it tastes great.
In India, modak is famously considered to be the favorite sweet of the Hindu deity, Ganesha.
4. Barfi (Borfi or burfi)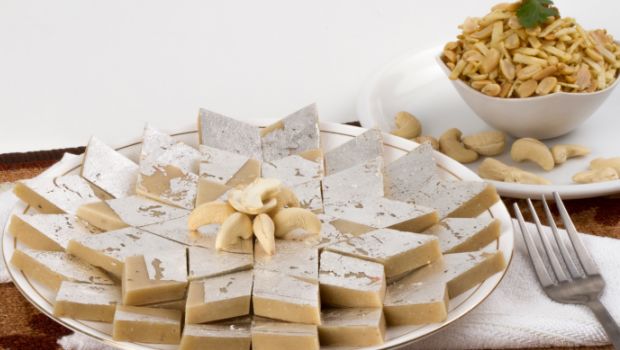 There is different varieties of barfi including kaaju (cashew) barfi, pista barfi made with pistachios, sing barfi made with peanuts and besan (gramflour) barfi. It varies in their colors and texture.
The main ingredients for all barfis are condensed milk and sugar. Rosa water, coconut or mango, nuts and spices such as cardamom are added for flavors.
Its name 'barfi' is a derivative of the Persian word 'barf', meaning snow.
5. Jalebi
It is widely available in India and is one of the most popular foods found all over South Asia as well as in the Middle East.
It is prepared by making a batter using Maida or all-purpose flour, which is deep-fried in pretzel or circular shapes and then soaked in sugar syrup. Lime juice or critic acid and rose water are sometimes added to the syrup. Served either warm or cold, it is crispy on the exterior while its meltingly soft and chewy inside.
6. Laddoos


Its made from flour like gram flour, wheat semolina and ground coconut, ghee/butter and sugar. Other flavourings such aaas chopped nuts or dried raisins arealso added. Based on the varying recipes and ingredients, there are different types of laddoos.
7. Kheer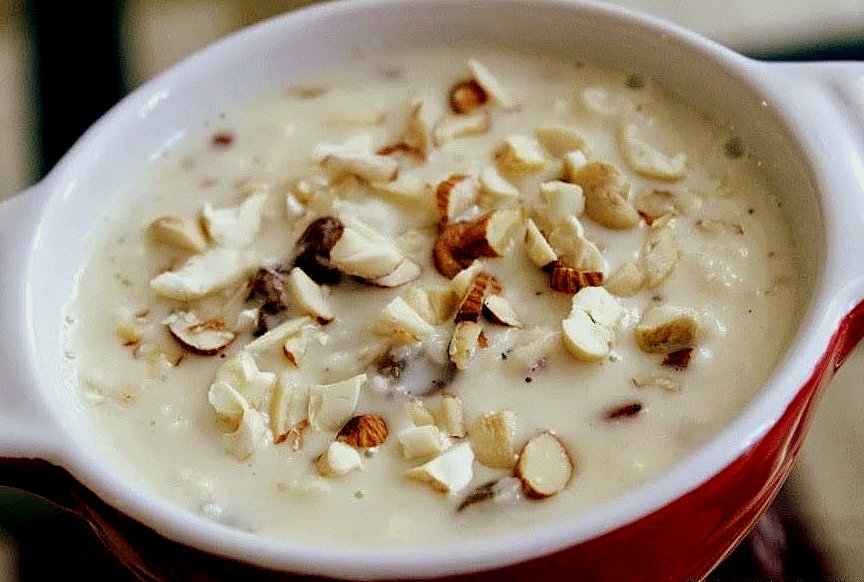 It's a pudding made by boiling milk and sugar usually with rice or broken wheat or vermicelli and sometimes even from tapioca or sweet corn. For flavouring, fruits and nuts like cardamom, raisins, saffron, cashews, pistachios, coconut or almonds are added. It is usually served as a dessert.
8. Kaju Katli/kaju barfi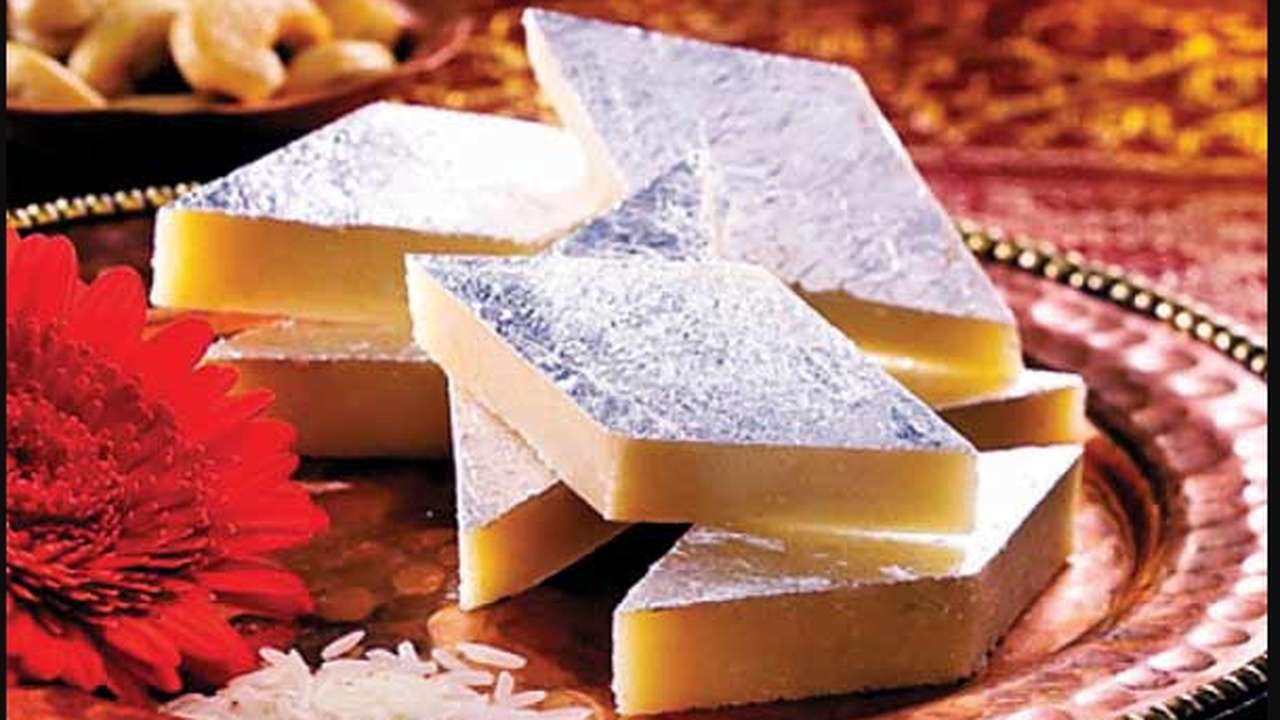 Kaju katli literally means "cashew slice". Its main ingredients are cashew nuts, sugar and ghee. It is usually decorated with edible silver foil. Traditionally, kaju katli was eaten during Diwali, a Hindu festival of lights. It's quite popular in India and its delicious too.
9. Ghevar

It is a disk shaped sweet cake made with Maida, Ghee, milk and soaked sugar syrup. Various flavourings are also used, including saffron and almonds.
Traditionally, Gheva was associated with the Teej Festival in India. It is generally prepared in July-August for the Teej or Rakshabandhan festival in India.
10. Rabdi


It's a sweet dish made by boiling the milk on low heat for a long time until it becomes dense and its color becomes off-white or pale yellow. Nuts, spices and sugars are added and the Rabri is served chilled as a desert.
11. Soan Papdi


Another popular Indian desert, Soan papdi is usually cube-shaped or served as flakes, having crisp and flaky texture and meltingly, sweet in taste. Its main ingredients are gram flour, sugar, flour, ghee, milk and cardamom. Newer flavor has been introduced due to its popularity such as mango, strawberry, chocolate and pineapple flavours.
12. Kulfi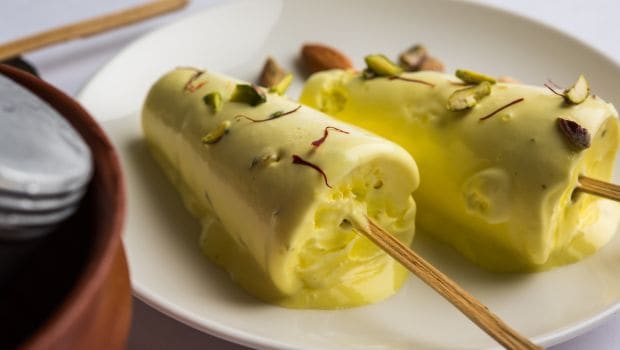 Often described as "traditional Indian ice cream", it is popular throughout India, Sri Lanka, Pakistan, Bangladesh, Nepal, Myanmar and the Middle East. It comes in various flavours including cardamom, saffron, rose, malai, and saffron which are more traditional.
This yummy and ice cream desert originated in the Mughal Empire in the 16th century.
13. Rasgula


The popular Indian syrupy desert which is made from ball-shaped dumpling of an Indian cottage cheese called chhena and semolina dough. The round dumplings are cooked in sugar syrup until the syrup permeates it.
14. Gujia


It's a sweet deep-fried dumpling. The outer skin of dumpling is made with semolina or Maida and its stuffed with a mixture of sweetened khoya or Khoa(milk solids), grated coconut and dried fruits.